Mayor Dennis Thomas & Robinson's Pharmacy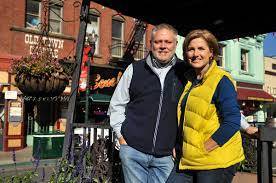 Located in Placerville, California we've been serving the greater Placerville and El Dorado County area since 1932. Dennis Thomas is the third owner of Robinsons Pharmacy in its 88-year history. Placerville roots run deep in Mayor Dennis Thomas's household. His family moved to the community in the 1950s. He was married in 2013 to Wendy Thomas, they have four children between them along with three granddaughters and two grandsons, all of whom live locally. Thomas has served on the Placerville Planning Commission and Fire Board plus two terms as president of the Placerville Downtown Association. Other Committee, board and commission assignments:
El Dorado County Transportation Commission, Sacramento Area Council of Governments (alternate), City Council Sub-Committee Interview Team, Pioneer Community Energy Board of Directors (alternate), Two by Two Committee (representation currently on hold), and Opportunity Knocks/Continuum of Care (alternate).
Wendy Thomas, his wife, has roots to El Dorado County that run deep as well. Her family settled here in 1850, and after finding success in Placer mining, they transitioned to business owners in Placerville. Her great-great grandfather became the Recorder/Clerk of El Dorado County and was later elected as both the County Sheriff and Tax Collector from 1899 – 1906. For generations, her family has invested in and contributed to the economic vitality of the local community.
Robinson's Pharmacy wins the Readers Choice Award year after year for their commitment to their patients and to their community.
Committee, board and commission assignments
El Dorado County Transportation Commission Sacramento Area Council of Governments (alternate) City Council Sub-Committee Interview Team
Pioneer Community Energy Board of Directors (alternate)
Two by Two Committee (representation currently on hold)
Opportunity Knocks/Continuum of Care (alternate)
Source: